August 9, 2018
by Nick Maludy – Encore Technologies
Ready to automatically provision and maintain StackStorm nodes in production? Then the stackstorm-st2 Puppet module is for you! We're proud to announce the v1.0.0 stable release of github.com/StackStorm/puppet-st2, the StackStorm Puppet module.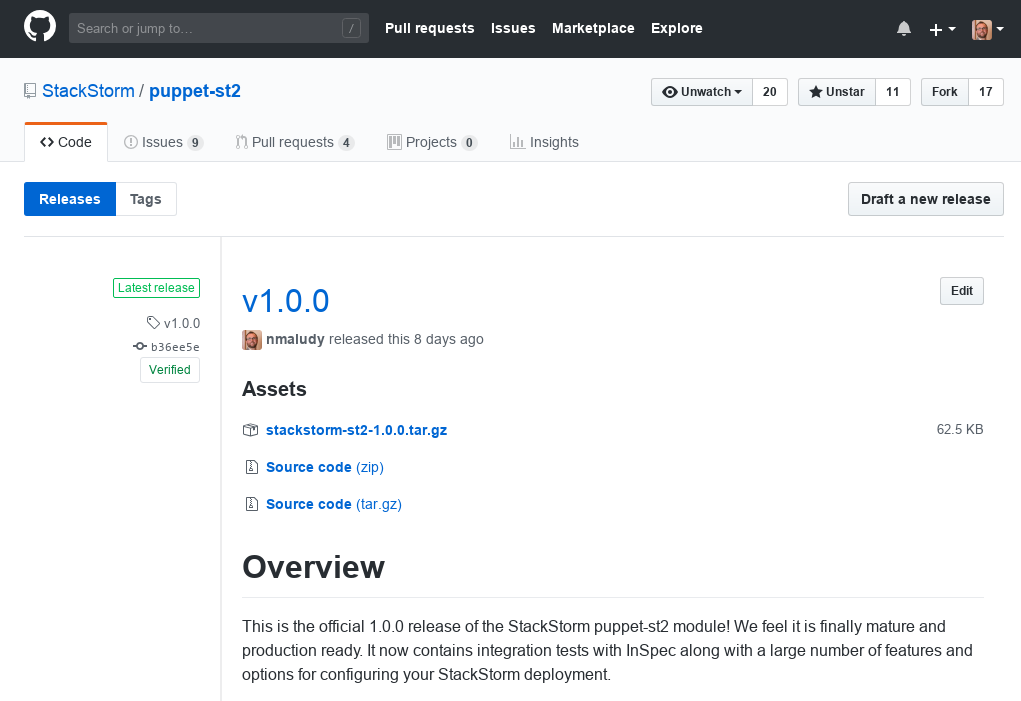 Puppet is an excellent tool that allows the user to declare the desired state of their system in code. Once defined, hand over the reins to Puppet and watch as it transforms your nodes into what you've declared. We wanted to bring the power of declarative state to StackStorm deployments, and puppet-st2 is that solution.
Find StackStorm v1.0.0 on Puppet Forge, – https://forge.puppet.com/stackstorm/st2
A great deal of work has gone into the v1.0.0 release to ensure that st2 Puppet Module is ready to provision and manage StackStorm nodes in production environments. See January, 2018 Puppet Module to Install StackStorm – Announcing Release Candidate. Over the past year we've iterated through several pre-releases, release-candidate versions, fixed a lot of bugs, reworked the entire module structure and can now declare it stable and production ready.
There are still a lot of exciting new announcements in this release. Keep reading to find out what's changed!
July 27, 2018
by Lakshmi Kannan
For all the people in a hurry, StackStorm will be at ServerlessConf in San Francisco July 31-Aug 1, 2018. Winson Chan and Dmitri Zimine will be speakers from StackStorm talking about our new workflow engine and serverless functions. We also have a booth with cool demos showcasing our new multi-cloud serverless orchestrator – Orquesta and our new workflow engine. Of course, we will have some cool swags! Stop by and don't be a stranger! For all the people who are enjoying your Friday afternoon like I am, read the longer version.
July 17, 2018
by Lindsay Hill
Using packs from the StackStorm Exchange? Here's a roundup of recent updates, including new packs for Algosec, Cisco ACI and AWS Boto3, along with fixes and updates for Slack, MySQL, Zabbix, RabbitMQ and more. We've also released StackStorm 2.8.1, with a few small fixes since 2.8. Details below:
2.8 Release Blog
July 10th, 2018
by Lindsay Hill
It has been 3 months since our last confession release. That's why there's a lot happening in this release. We are very excited to present the first public release of our new workflow engine, Orchestra. The Web UI has a new look & apps, and we've added Python 3 action support. We've also added metrics collection to help understand exactly what your system is doing. Read on for more!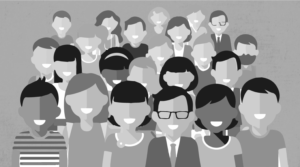 June 25, 2018
by Bettina Baumgart
Many enterprises are delivering services to millions of customers every day, and one of their key challenges is to make sure they are never without service. Working at such a large scale requires organizations to streamline DevOps processes so they can minimize errors, reduce the burden on Site Reliability Engineers (SREs) and get fast visibility into potential issues.
We are happy to welcome Bitovi as a partner. Just recently they helped one of their clients to streamline and solve DevOps automation using Stackstorm.
June 3, 2018
by Lindsay Hill
Here's a few of the recent updates to StackStorm Exchange. New packs for Check Point, Infoblox, Cisco ACI and vCloud Director, and CircleCI 2.0 migration complete. Here's the details:
May 21, 2018
By Warren Van Winckel and Eugen C.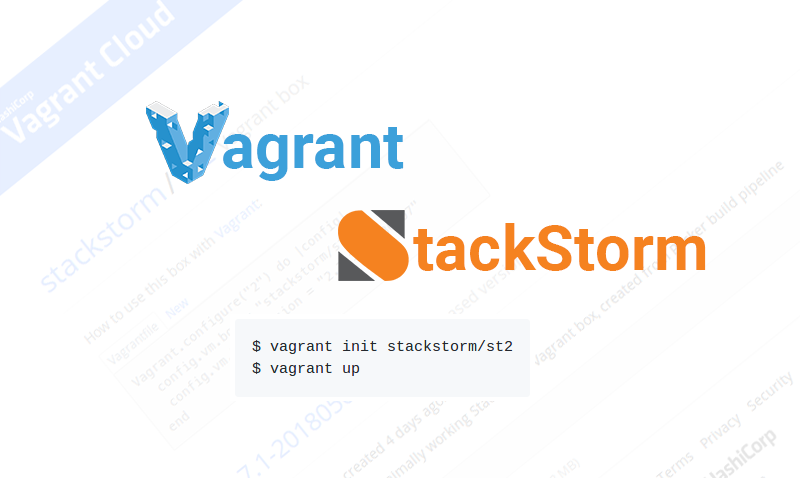 We're glad to announce that StackStorm Vagrant box and Community OVA are available for general use and included as installation method in StackStorm Docs.
Hey folks – StackStorm 2.7.2 has been released. We've fixed a bug affecting sensors, improved Jinja rendering, fixed a couple of Web UI bugs and improved the LDAP & RBAC handling for Enterprise users. This is a recommended update for all users. Read on for the details.
May 3, 2018
by Lindsay Hill
PerfSonar is a super handy toolkit for measuring network performance between any two points. Combine this with the Guest VM built into the Extreme SLX series of switches, and you can easily run performance tests between any two points on your network, measuring performance, latency, jitter, MTU, path taken, etc. Combine that with StackStorm, and you can easily run those tests from Slack. No need to even login to a switch.
Demo: Network Performance Tests via Slack
Check out the video here. From Slack, we can trigger different tests between any two switches – performance, one-way latency measurement, or trace the path, showing the path MTU. The results are then shown in Slack:
Read on for more about how to set this up.
READ MORE…
April 27, 2018
by Lindsay Hill
Packet Captures are a necessary evil when you need to prove network innocence. But they're tedious to configure, collect & analyze. What if you could simplify the setup, collection and viewing? That's what we've done here, combining StackStorm, Extreme Insight Architecture, CloudShark, and of course Slack.
Demo: Running Packet Captures from Slack
Check out the video here – we show entering some commands in Slack, which triggers a packet capture on multiple switches. The PCAPs are automatically uploaded to CloudShark, so we can view the packets in our browser:
Read on for more about how to set this up.
READ MORE…