Nov 16, 2020
By Amanda McGuinness of Ammeon Solutions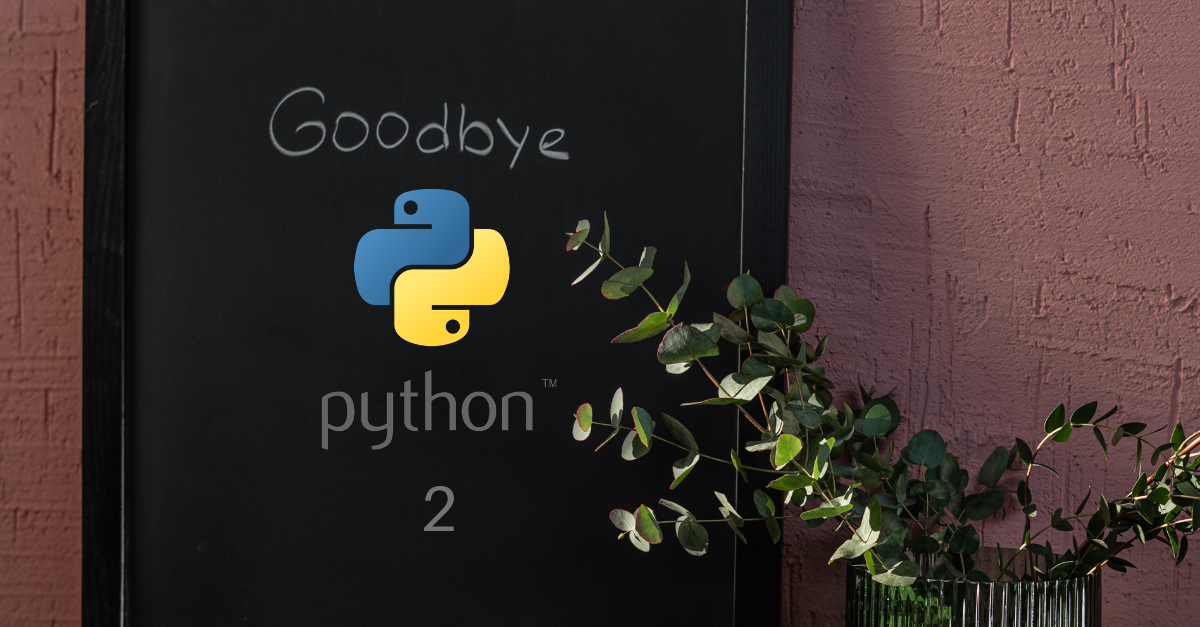 Python 2 reached end-of-life on 1st January 2020.  It served us for a long time, but today Python 2 pulls the project down as more packages drop python 2 support, making maintenance hard. Having to keep the codebase py2-compatible means we can't take advantage of modern Python 3 features.  Removing Python 2 support and relying on Python 3 only is the required thing to do and now it's finally time!
Nov 9, 2020
We'd like to inform our community about the UK Infrastructure Automation Meetup that'll take place on Thursday, Nov 12, 06:00 PM GMT (10:00 AM US Pacific Time).
UK evening or US morning time we welcome everyone to join!
Oct 22, 2020
by Nick Maludy (@nmaludy) and @blag
The StackStorm project is pleased to announce that the latest version of StackStorm, v3.3.0, is now publicly available! It has been approximately 5 months since our v3.2.0 release and we are releasing a new version containing important features and bug fixes that move the project forward.
Goals
With this release we're driving toward several project goals on the StackStorm roadmap. Each of the goals in this release is focused on providing better maintainability and ease of long-term support for the project. Reducing maintenance burden on the development team allows us to put more effort into features.
So, what changed?
READ MORE…
By Amanda McGuinness of Ammeon Solutions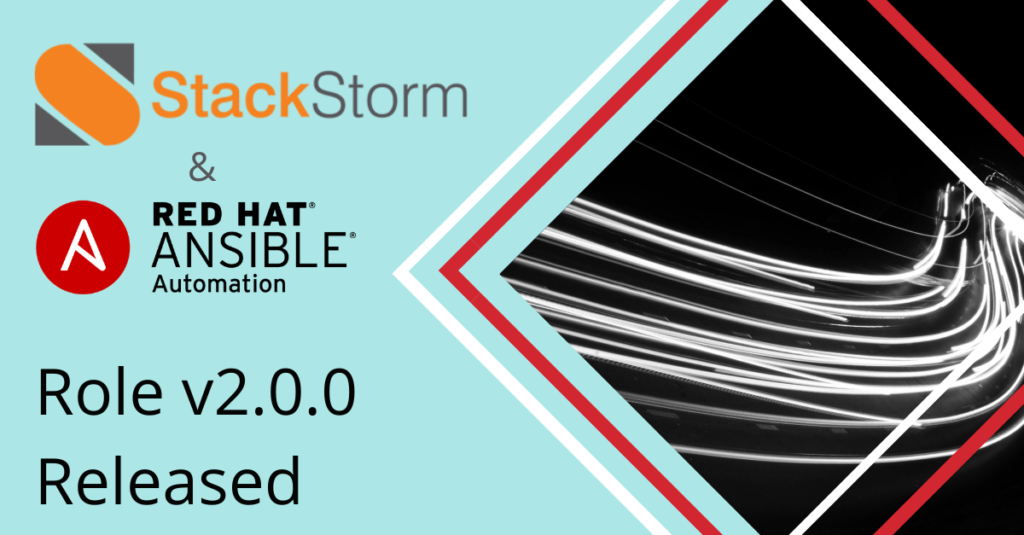 We're very excited to announce that Ansible roles to deploy StackStorm have been promoted to new major version 2.0.0! 
There has been a lot of activity recently on the ansible-st2 repository, with 4 releases in the last couple of months. Ansible can now be used to deploy StackStorm on more modern operating systems and with newer third-party applications.
August 3rd, 2020
by @blag
The 2020 ChatOps User Survey is here! This is your chance to submit your feedback on using ChatOps with StackStorm – what we get right, what we get wrong, and what we need to focus on.
We will use this feedback to chart the development roadmap for ChatOps, whether that means leaving st2chatops as-is, or focusing on supporting more chat providers, deeper feature support for specific providers, improving ChatOps integration with the rest of StackStorm (RBAC for ChatOps!), or even rewriting the entire thing on top of Errbot or OpsDroid.
Your feedback is valuable to us, especially now that all of StackStorm is open source, since it will allow us to cater our efforts towards what matters the most to you. Are you running ChatOps as a hubot plugin to your own hubot instance? Have you extended ChatOps to use your own chat provider? Are you running a different ChatOps service? Do you want to use machine learning driven artificial intelligence to securely empower natural language understanding and disrupt established technology while creating a digital transformation and revolutionizing paradigms in the cloud on the blockchain? We want to hear from you!
Please take a few minutes out of your day to fill out 2020 ChatOps User Survey and/or leave us a kind note or some words of encouragement. The survey will close at noon (PDT) on August 31st, so leave your feedback soon!
The survey is here:
https://www.surveymonkey.com/r/G7V5JH5
Once you're finished, you can also help us out by sponsoring the StackStorm project and contributing code.
Jun 12, 2020
by StackStorm Team

In recent news Extreme Networks open-sourced EWC and contributed all previously "enterprise only" features to the StackStorm project operating under the Linux Foundation.
This is very exciting news for the project's future and its users. It also means that StackStorm's destiny now rides on the shoulders of the community along with organizations that rely on it in their production infrastructure and benefit from the project's unique event-driven-automation and automated remediation capabilities.READ MORE…
May 27, 2020
By @blag
After acquiring the StackStorm product and the amazing StackStorm team in 2017 from Brocade, Extreme Networks has been a large contributor (if not the largest contributor) to the StackStorm project, even donating the code and transferring the StackStorm trademarks to the Linux Foundation last year. Continuing that tradition, Extreme Networks announced today that they were donated their enterprise extensions of StackStorm (previously StackStorm Enterprise) to the Linux Foundation! The contribution includes the Extreme Workflow Composer (EWC), the graphical workflow editor, as well as their LDAP, RBAC, and SSO plugins. With these contributions, adopting StackStorm in your organization has never been easier!
Now that all parts of StackStorm are open source, you can expect a better installation and configuration experience in future releases, and a lower barrier to entry for users who are just getting started with automating tasks. The authentication and authorization plugins will enable better security and integration with your existing mechanisms, and now that the workflow composer is open source, StackStorm's user interface will be more integrated and streamlined. It will soon be possible for anybody to create and modify Orquesta workflows entirely with their web browser!
And if you know any frontend developers who would enjoy working on a React app with an existing and excited userbase, please have them stop by and say hi! We need support from the StackStorm community now more than ever, to help integrate and improve the product, but also to help package all of the new code up for end users, to provide migrations paths for users to the new open source releases, and to integrate the EWC documentation into the StackStorm documentation. There's plenty of work to go around, so please pitch in and help out!
We're very excited about this big update. It's a huge change for the project and our community. We hope it'll help even more organizations to improve their automation with no more barriers to contribute back to StackStorm Open Source under the Linux Foundation neutral home!
In the meantime, please tweet your gratitude to Extreme Networks for their contribution!
May 1, 2020
By Eugen Cusmaunsa (@armab) and @punkrokk

It happened! 🎉 After a long wait, we're more than excited to announce the StackStorm v3.2.0 release.
The StackStorm project has had some turbulent times since the previous release almost one year ago. The new v3.2.0 version is the first release since the project joined the Linux Foundation, formed new Governance, and gathered a new team of Maintainers. Considering the amount of changes happened, it looks like a big restart for the project.
It's awesome for StackStorm to be under new governance. But that also means everything is on the Community's shoulders now. And while it's harder to rely only on the community's efforts compared to the previously dedicated team of full-time employees, these days we're observing increased number of contributors and interest from the larger organizations to adopt StackStorm Event Driven Automation and Automated Remediation. We hope this trend continues and we are striving for a better project future and further growth, together.
So what's new in StackStorm 3.2.0?
This version aggregated almost one hundred changes including bugfixes, new Pack Dependencies, RHEL 8 / CentOS 8 Support, Orquesta retry and re-run features, ChatOps updates, Immutable parameters in Action Aliases, performance improvements, and more.
Feb 20, 2020
By Eugen Cusmaunsa (@armab)
As you may heard before, StackStorm has joined the Linux Foundation.
Today we're happy to update our Open Source Community with the news that first seeding StackStorm Technical Steering Committee (TSC) under the Linux Foundation was formed and ready to rock!
See OWNERS.md and GOVERNANCE.md for more details, which you can find under the project Github repository stackstorm/st2. We're back to git as a single source of truth. From now on adding new members or proposing a change to the project governance is a matter of opening a Pull Request, – check out #4856 PR.

StackStorm is headed for the Linux Foundation! This is a big move and we're excited to share this news with our community. For several months now we've been working with the Linux Foundation, the StackStorm team, and many others inside Extreme to make this move possible. We want to thank everyone for their effort to make this move happen. 
StackStorm's community continues to grow and the impact the project has had continues to show, and show, and show, and show (you get the point). We're happy to continue this growth by joining the Linux Foundation, allowing us to include even more of our community in developing and governing StackStorm. 
You may be wondering what, if anything, will change with this move. The primarily change is how StackStorm is governed. Historically StackStorm's development has been driven exclusively by Extreme Networks and the Extreme Workflow Composer team. Now, as a member of the Linux Foundation, we will be inviting others into this process by forming a Technical Steering Committee (TSC). The TSC will create and publish roadmaps, facilitate open standup meetings, and maintain StackStorm's repositories. More in-depth details about how StackStorm will be governed can be found in our Technical Charter.​
We're excited about this move. It's the next big step for StackStorm as a project and community. We look forward to working even closer with our community friends as we enhance and grow StackStorm. We'​re working on an FAQ to help answer any additional questions, and as always you can find us on the community Slack channel.